Top Spot 1
For 4 people
Slightly bigger
1 bedroom + 1 sofa bed
1 bathroom
Living room
Kitchen
Top Spot 2
For 2 people
Slightly smaller
1 bedroom
1 bathroom
Living room
Kitchen
---
Welcome!
Top Spot apartments provide modern accommodation in the heart of the Dubrovnik's Old city. Situated in a historical stone house they can accomodate up to 6 people. There are two apartments that have inside connecting door in case of a larger group booking both. Book now and feel the way of living inside the city walls!
Stairs free
It is common for accommodations in the Old town to be located on the higher ground beneath the city walls, which makes you have to climb alot of stairs to reach your accommodation. With Top Spot however, there is literally only one stair you have to take before reaching your apartment from Stradun.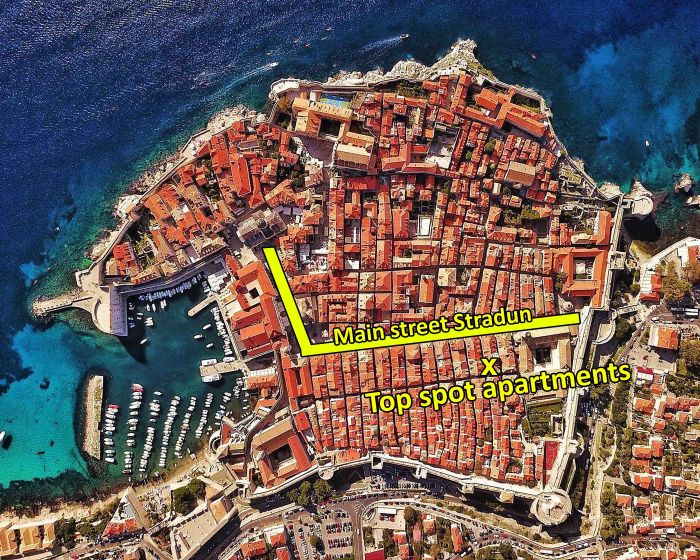 Perfectly located
Situated just a step away from Stradun, the main street in Dubrovnik Old town, numerous restaurants, beaches, galleries and all the historical monuments and museums. The apartments are close to everything with perfect location to explore around.
Newly renovated
The apartments are completely newly renovated and provide modern accomodation facilities. Elegant furniture and modern design make this apartment a pleasant and charming stay. There are new triple glazed windows that eliminate the noise of happy tourists enjoying the Old town area.
---
Friendly hosts
Available at all times during your stay. We are happy to provide answers to any help you might need.
Transfers
Transfers to and from the airport, as well as other transfers, can be arranged on request.
Trips and excursions
Best recommendations on where to go and what to do. We will help you book perfect trips to make unforgettable memories.
---
Top Spot
Most recent reviews
---
---
Top Spot
Our other accommodations